Every traditional wedding comes with a bride, a groom, and their wedding parties, which most often includes a cute little flower girl and an adorable ring bearer. Well, it's 2015, and times they are a changin! I've seen it more and more recently - a flower boy and a ring girl.
You would think that this trend would have evolved long ago when people started realizing that there wasn't a young enough boy or girl in the family to fill the position, but apparently if you are getting married, there are always enough small children around to fill the part. For those of you who aren't willing to borrow your fourth cousin's step kid to throw flowers in front of you on the most important day of your life, have no shame in having your little brother step in as your most-adorable (and actually related) flower boy.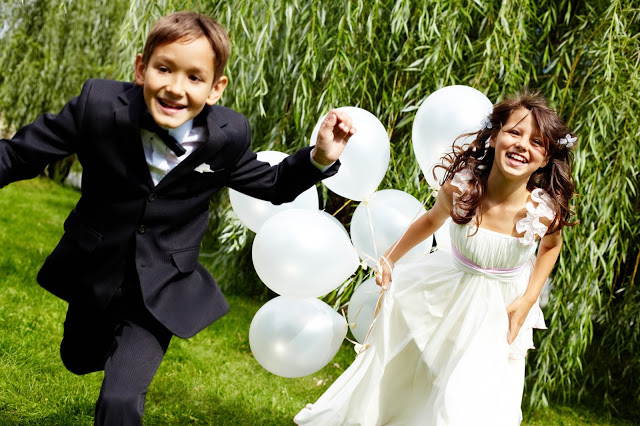 Trust me when I say, no one will be judging little Bobby throwing flowers when he comes down that aisle with the biggest grin you've ever seen. In all honestly, everyone will probably be too busy recording the cuteness on their iPhone to even realize that he's not a little girl.
The opposite position of ring bearer can also be mixed up. I've seen girls carrying the precious rings (you're welcome LOTR fans) down the aisle - shoot, I've seen dogs bring those rings to their owners more times than I'd like to admit.
If I have opened your eyes to a whole new world of procession possibilities, here are some ideas on what you can do (and how to avoid people making fun of a small child) -
Have your flower boy hold a "Here Comes The Bride" sign

Carry a flower boy pail instead of a basket- because boys can't hold baskets

Throw something other than flowers, cocktails or something should suffice

A second or third flower girl can carry the rings

Attach your rings to a flower girl basket- best of both worlds

Don't have a flower girl or a ring bearer- have the Best Man carry the rings down

Have little kids blowing bubbles down the aisle- your guests won't even realize what's missing

When it comes down to it - whoever, or whatever, you have adorning your path with petals or holding that little pillow has one job - be cuter than everyone else.