When it comes to planning a wedding, there are a lot of preconceived ideas that you might think you have to follow. Wedding traditions that we have become accustomed to through stories, experiences, movies, and anything else that has to do with weddings! You will be wearing a white dress, your father will walk you down the aisle, your closet girlfriend will be standing next to you holding the bouquet - yada, yada, yada.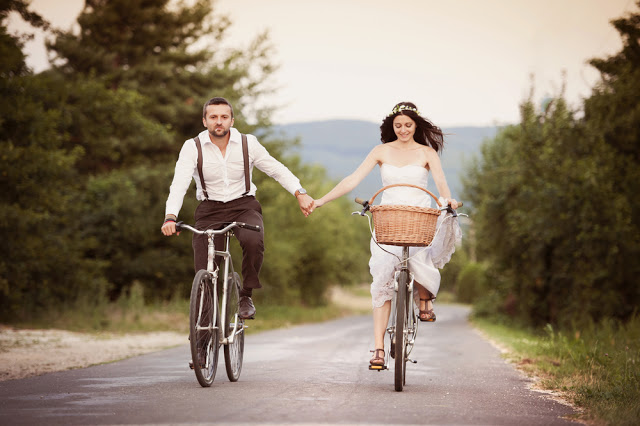 Traditions are great and all, but in this day and age, some of those traditions just seem completely outdated. Here are some of the traditions we know and love, accompanied by their modernized 2015 counterpart.

Gender specific wedding parties
This tradition has literally never made sense to me. I mean, there is just no way that every bride's closest friends are always girls and vice versa for the grooms. The rules have been broken and we are seeing having a man of honor and best woman more and more. I mean, Patrick Dempsey even plays a "Man of Honor" in a movie, how much more real can this trend get?

Being given away
This tradition, in its original sense, was intended for when a daughter was the father's property and he would literally give her away to the new hubby. Sorry, but unless you are getting a couple goats and a chicken in exchange, you ain't giving no one away. Also with many divorced parents, step parents, and single parents, who do you choose without some feelings getting hurt? Many brides are opting to walk themselves down the aisle, having both parents accompany them, and even walking down with their soon-to-be-spouse.

Not seeing each other before the wedding
Also from an era of arranged marriages, this traditions origin comes from the fear that you will catch a glimpse of his mug and run for the hills before you are trapped at the alter of your own wedding. In present day, this tradition is really just part of a silly superstition that it is bad luck to see your fiance before the wedding. Many couples have given this tradition the boot and are partaking in first-look photos. These photo shoots are so beautiful, and can be much more personal than seeing your significant other along with everyone else *awe*.

Throwing rice
This is probably the most WTF wedding tradition. I mean, does anyone really know why we do this? Or how it started in the first place? Apparently, back in the day, chucking rice at the newlyweds symbolized showering the couple in prosperity, fertility, and good fortune. Even though I am a big fan of rice and enjoy it under a nice cut of ahi, let's leave the rice for the sushi. Not only is this random af, but there are so many better (and more photogenic) options. More and more couples have opted for sparklers, sprinkles, confetti, and anything else you can think of (which is still probably better than rice). A new trend forming is including a confetti bar at your reception for your guests to mix and match what they want to pelt you with!
Diamond wedding rings
Ok, I'll let you in on a little secret. When I was going through college, studying advertising, multiple teachers would use diamonds as an example on how something relatively common can be turned into a luxury item. According to these professors, the reason diamonds are so desired is due to clever advertising that made them appear rare and a symbol of status. With that being said, there's really not much behind the stones, and with so many beautiful rings available in all styles, why not try amethyst or sapphire?