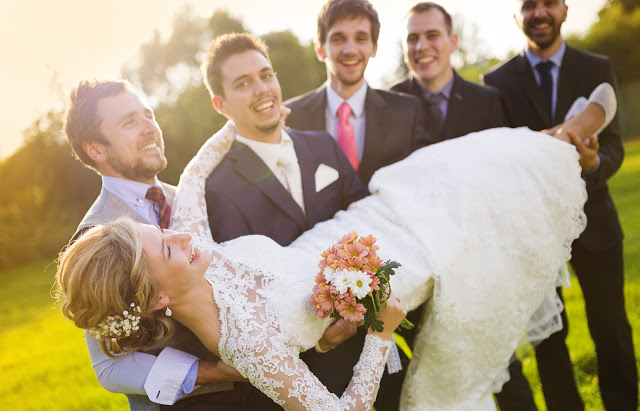 Dear Expert,
My fiance and I decided that we are not going to have the bachelor/bachelorette parties before our wedding day. I can tell she seems a little concerned about my guys hiring a stripper for me. I want her to feel comfortable, not stressed on out on our wedding day, so we agreed to drop the traditional festivities, altogether. It's ultimately better for me anyway because I know how she is. She'll spend the entire day so worried about what happened at the bachelor party, that she'll forget she's even getting married to me.
Even though we agreed NO PARTIES, I realize she gave up her last hurrah so that there would be no chance of mine having a stripper. I can care less to have my own party, but I still would like for her to have an enjoyable evening before getting married to a doof like me. So, what I would like to do is surprise her with a "gathering", and get her and her bridal party in on it. We can turn the apartment into a night club, and decorate it with lights and streamers. We'll make a bar station and I'll have one of my buddies tend the bar for the evening - the whole shebang.
I know she didn't want ME to have a stripper, but she never said anything about her having one. I spoke to my groomsmen, and they have agreed to take part in this surprise. So we are going to give the ladies a PG-13 male revue performance. We're going to dress up in costumes and surprise my bride with a hilarious show. I feel like this is a good way to create a positive experience for both of us, while eliminating any worrisome feelings.

Now I know that it is "bad luck" to see eachother before the wedding, do you think that this may be a bad idea? Or does it seem creative, and like something she'd be more happy about then angry?
Thanks in advance,
Keepin' It PG
Dear Keepin' It PG,
It's the question of the century, do we still have bachelorette/bachelor parties if we know our significant others aren't down for the cause. The answer to that question is compromise. Let's face it, if you haven't even gotten married and you're having a bachelor/bachelorette party equipped with strippers that your future wife was uncomfortable with, then you probably shouldn't be getting married in the first place. Either you're not ready for marriage or you're not in love with the person you're marrying. At least, that's how I see it.
I hope that your future wife appreciates you to her fullest potential because this is some pretty thoughtful shit. Not only are you taking your lover's feelings into consideration, but you are going the extra mile and surprising her with the cutest joint pre-wedding party, just so she doesn't feel like she missed out on anything. I even love that instead of a stripper, you and your groom's men decided to put on a group performance with your boys. I applaud you!
I think that this is a great idea. As for your question, it's up to you. How do you feel about it being bad luck to see the bride before the wedding? If it doesn't bother you, then I don't think that it would matter if you have the party the day before the wedding. Also, I could be wrong but isn't that the day of the wedding, and not the night before? If it was me, I don't need anymore bad luck than I already have, so I would have the party around 3 days before the actual wedding date. That way if you guys end up drinking a little too much, you won't be hungover for your own wedding. You feel me? Good luck on you and your future wife's new beginning and party on Garth!
With Love,
The Wedding Expert