I'm sure if you have a computer - or have any connection to the outside world - you have seen a picture plaguing the internet of a groom and his groomsmen ripping their shirts open to reveal an array of wonderfully tacky superhero t-shirts. I love this new trend as much as I hate it, which has sent me into a confusing taffeta spiral until I came up with the perfect solution - Mancessories.

Mancessories are the perfect way for you (yeah, I'm talking to you groom) to get your individuality on, while rocking a penguin suit. I'm talking about accessories guys- the ever dreaded, yet totally socially acceptable, way to take your outfit from drab to - well..not so drab. You're already going to be wearing these items, so why not make them your own. The idea is simple, find out what you like and turn it into an accessory!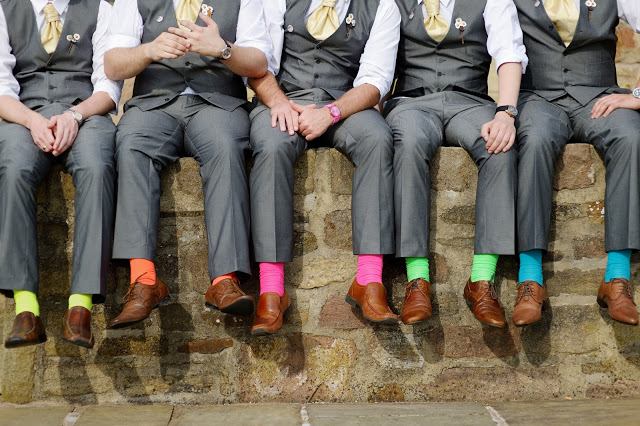 OK OK, I'll help you out. Let's start with cuff links. Over the years I have seen almost any kind of cuff link. I mean seriously, if you google "creative cuff link" you won't be sorry - they have thought of everything. From Darth Vader helmets to power tools, even Xbox controller buttons, if you're into it - it can be made into a cuff link. But the fun doesn't have to stop there! Here are some Mancessories that never get old.



Handkerchiefs
Folded ever so meticulously in your pocket, these little squares of awesome are fun and functional!

Cuff Links
We've been over this, no matter what you're into, you can find the perfect way to rock your style.

Sunglasses
Look cool while hiding your post-bachelor-party hangover. Bonus! Customized shades make a perfect wedding favor!

Suspenders
Suspenders are making a comeback with a quickness- be original and add some color and/or print to those suckers.

Belt Buckles
OK, these can be a bit tricky- belt buckles can go from chic to tacky faster than you can say "I do"- I would recommend checking with your significant other before bringing out the big guns.

Tie
Everyone loves a nice patterned tie - hello paisley- but please, I beg of you, don't wear a "funny" tie. No one thinks they're funny. I'm looking at you Mr. Bugs Bunny tie in the back.
Bow-tie
Funny bow ties are funny- If you really want a Simpson's corn window curtain print somewhere in your outfit, here is where you can do it. For some reason, bow-ties get their own set of rules, and we've accepted that.

Socks
Socks are perfect when it comes to prints and colors - yeah they're basically hidden, but you'll know that there is a party happening on your feet, and that's what matters!


So guys - we get that you're an individual, you have your own wants and needs, and that is perfectly fine! Just don't be afraid of the world of accessorizing. Embrace it. Own it. You'll be glad you did.