What is the WEIRDEST place you have ever witnessed a couple get married? I mean we've seen people get married on boats and in little chapels in Vegas, but we're talking about some interesting and extreme places. From shark tank's to dollar stores, we've got a list of 10 strange venues you probably never would have thought to display your nuptials.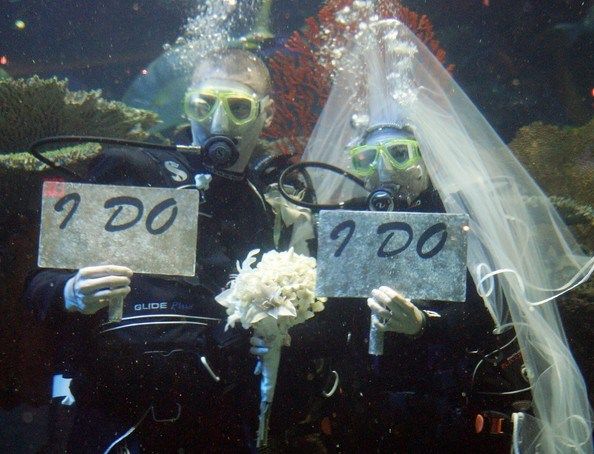 Little Vegas Wedding
1. Shark Tanks
How do you feel about being locked in a steel cage to be wed with the sharks? Have you bought your wedding wetsuit yet? Well you're gonna need it! Oh, and waterproof headgear so you can communicate your vows! Believe it or not, this is something people do - especially deep sea lovers… Hey, Ariel.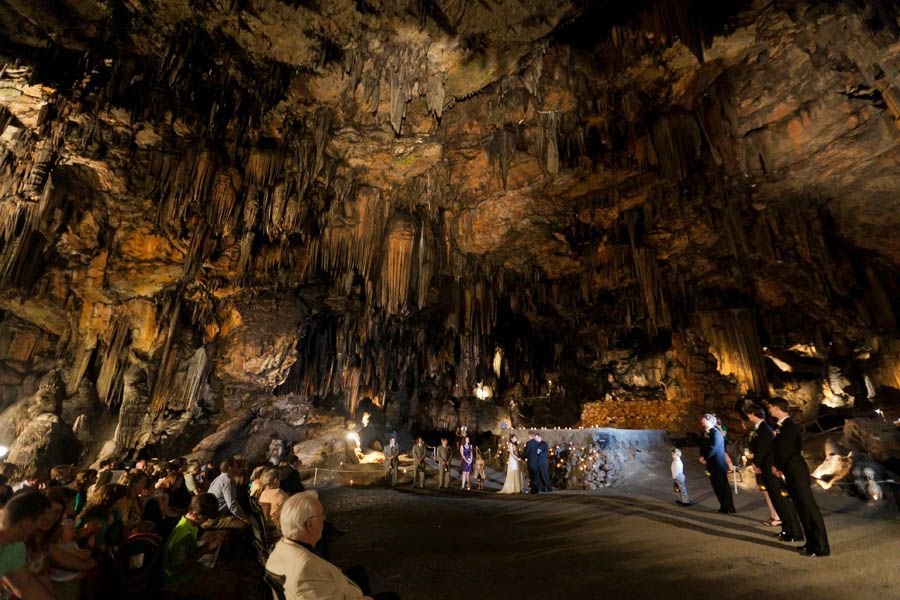 Rock N Roll Bride
2. In a Cave
Couples find their way to the depths of cooler caves to escape the heat of summer. Summer weddings are known to be quite miserable in the heat, so exchanging your vows in a low temperature, beautifully lit cave will save you and your guests from melting under the sun. Not to mention, they make for majestic photo ops!
Guides for Brides
3. Submarine
If Rihanna doesn't make you wanna hop on a submarine, I don't know what will other than the fact that you can be completely awesome and get married on one! If you are looking to have an intimate wedding in a one of a kind environment, I think dipping under the sea in a submarine is a spontaneous way to go. Don't worry, no sharks in this one.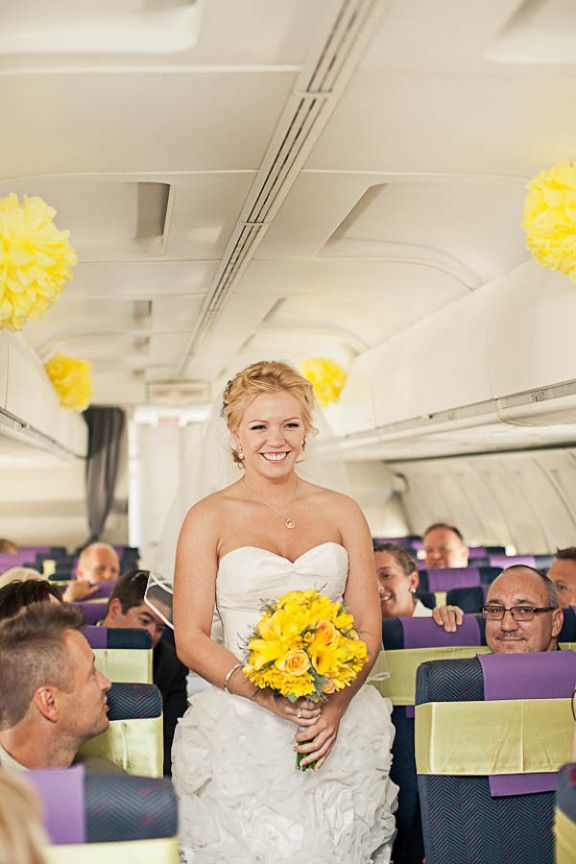 Rock N Roll Bride
4. Airplane
Well the seating chart can't be too hard with this one. Brides and grooms who love airplanes will have to work a little harder to be wed on one, but it's possible. Your best chance is asking a museum to allow you to have your wedding on one of their display planes; but the aisle is perfect for the kiddies to strut down handing off peanuts to the guests, followed by the bride. Me personally, I would feel claustrophobic!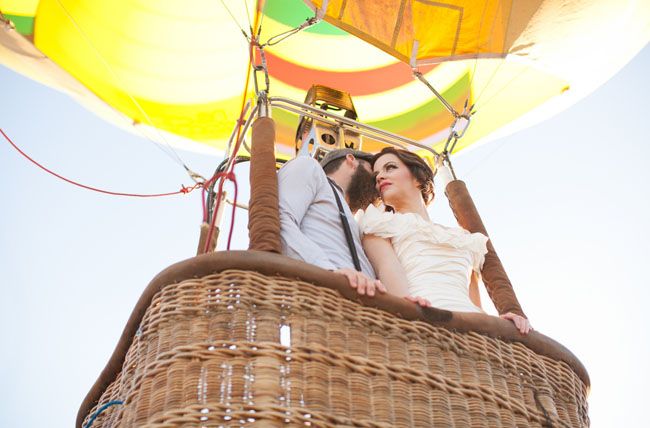 Green Wedding Shoes
5. Hot Air Balloon
Not TOO weird, I mean we have a few awesome vendors that provide a wedding service in their hot air balloons, so I actually think this one is normal, but indeed a UNIQUE experience. A very intimate setting - as you can really only fit about 5 to 12 people in a basket - you'll want to keep this in mind if you have a large family. Also, it is a "weather permitting" alternative, so make sure you are in line with Mother Nature's plans…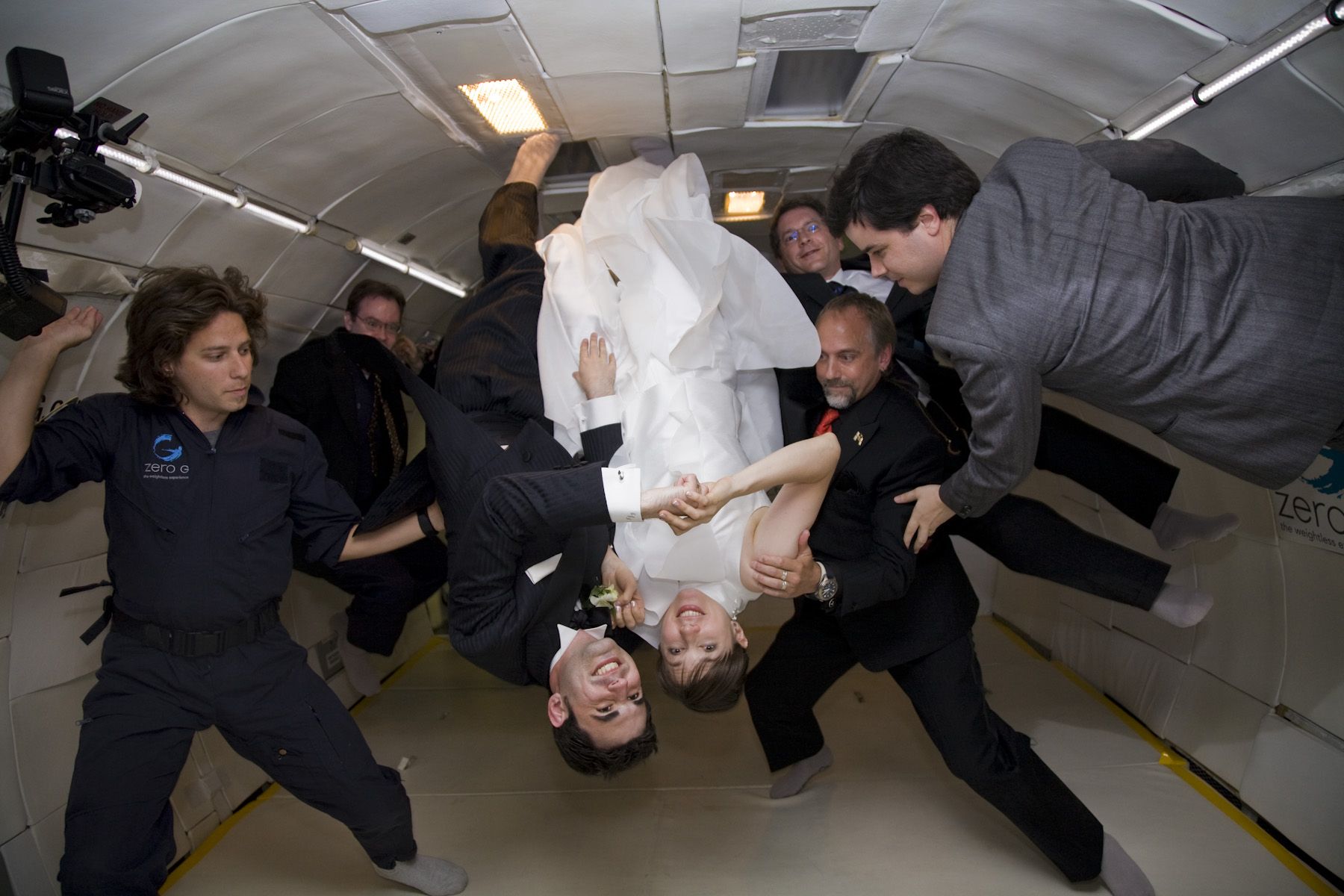 Zero G
6. Space
Did you know you can ACTUALLY float your way into marriage on a zero-gravity plane cabin? It costs a pretty penny, but if you long for a real spaceship-like ceremony, there are some amazing vendors who offer weightless weddings that are sure to give you the out-of-this-world ceremony you're looking for. Hold on to your dresses...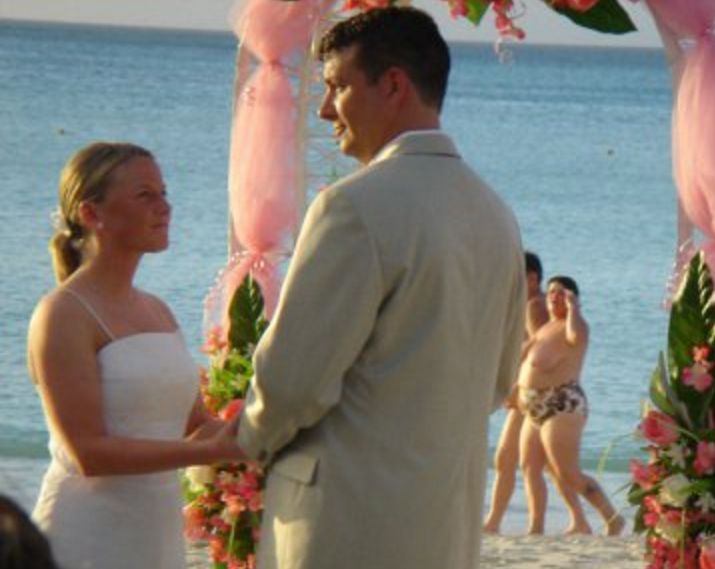 She Finds
7. Nude Beach
I mean, if you're gonna get married on a nude beach, you should probably be nude also. It'd be a little funny to have photos of your wedding with a bunch of nude strangers in the background. But yes, there are many weddings where we've seen brides and grooms completely nude, as well as the wedding party - accompanied by a few simple accessories; like a bow tie or a garter. Life's a beach, and marriage can be too, so why not wed in the nude?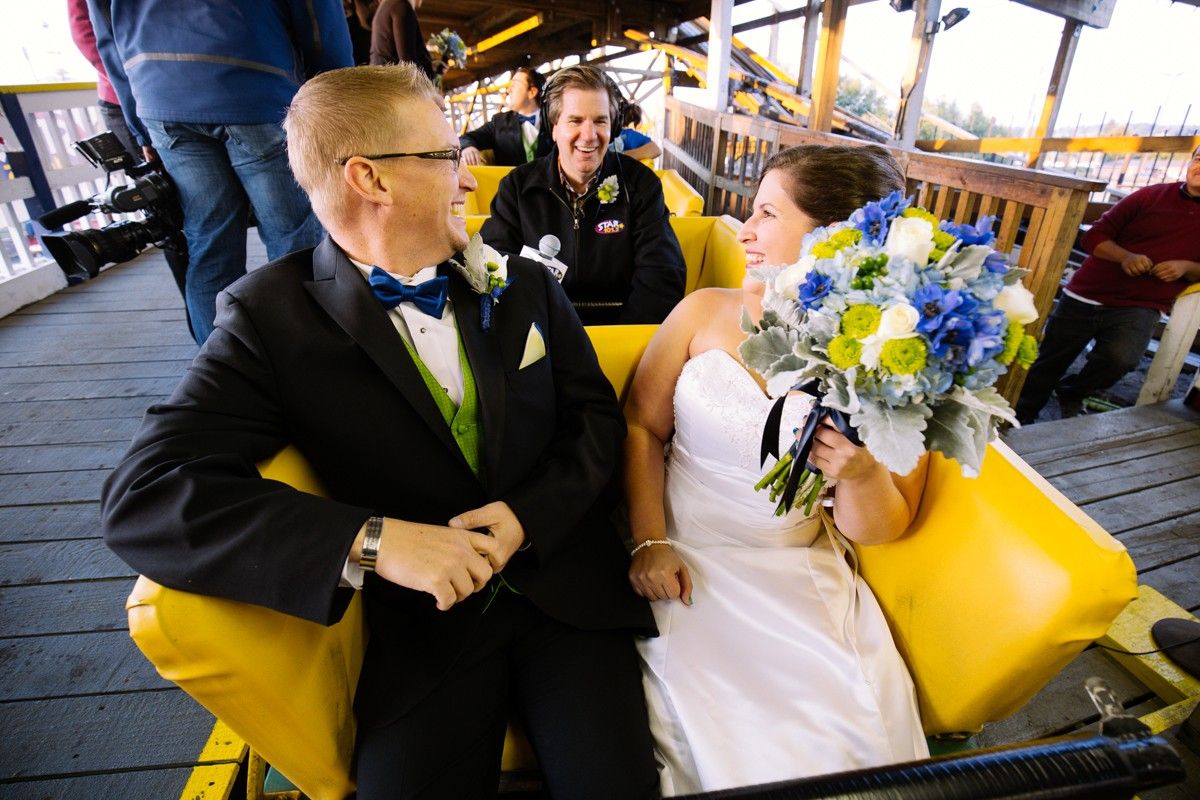 Seattle Refined
8. On a Rollercoaster
If getting married wasn't already a thrill, add a rollercoaster to your vows and really feel some butterflies! Couples are cruising into marriage on the seats of rollercoasters around the world to jump the broom. Not sure I'd like to vomit all over my white wedding gown, but hey, if you have a strong stomach more power to you.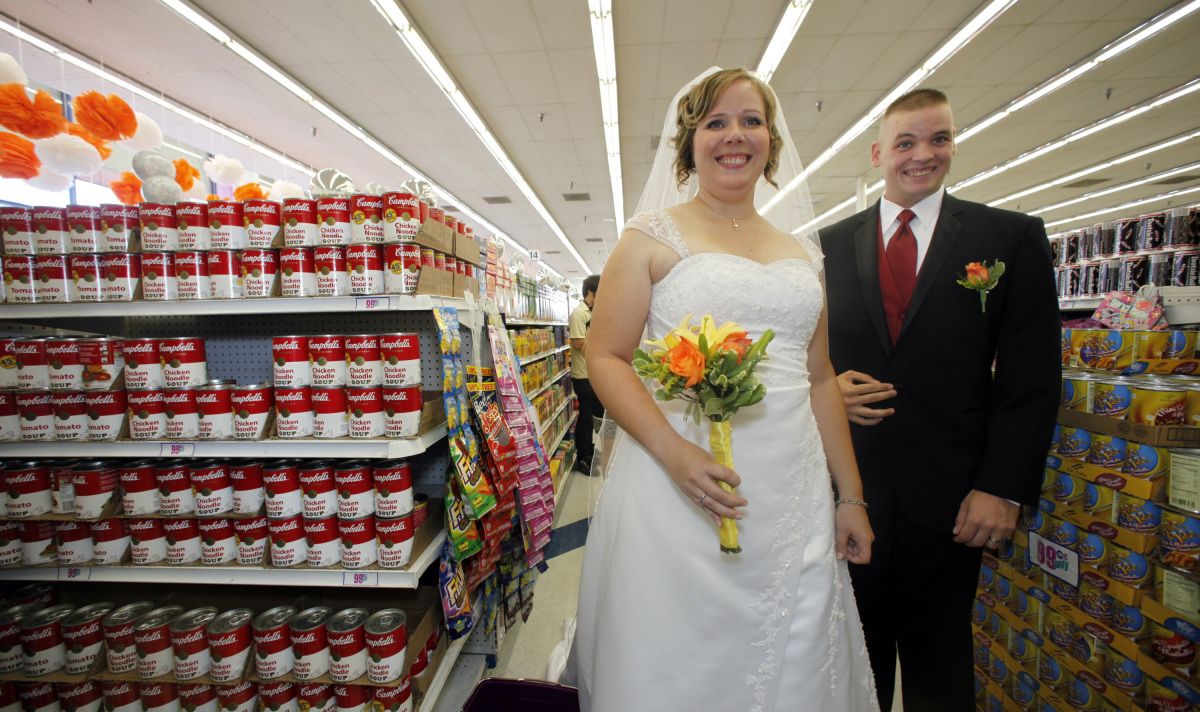 Huffington Post
9. Dollar Store
If you're really looking to save a couple bucks on your wedding, you might get away with holding it in this infamous store - that's right, the 99 Cent store. 9 couples ACTUALLY held their wedding in a 99 cent store on 09/09/09, while the store provided all of the decor - and guess how much it cost them… yep, 99 cents. I can't.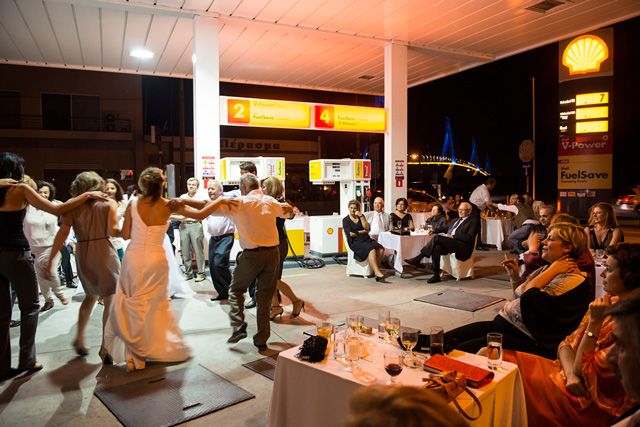 Laughing Squid
10. A Gas Station
Really people? I have nothing to say for this. Hakuna Matata.