Since it IS summer time, we figured it seems appropriate to talk about some different ideas on wedding favors that are . . .

Summer-esque.
We think it would add some fun if most of these items were personalized. it's better that way.

Mini Seashell Bottles
Fill little glass bottles with the sand and tiny little shells from your beach wedding then plug it with a cork. You could even add a little message inside
Message in a bottle anyone!?
Mason Jar Mugs
Fill these lovely mugs with ice cold lemonade and have them personally labelled with your guests nicknames for some added fun! Maybe add a little quote like "Summer Lovin' Yeah baby".
Hand Fans & Paddle fans
Whether your wedding is indoors or outdoors, Summers can be unbearable - give your guests the gift of a hand or paddle fan so they can cool off - we don't need any unhappy guests or Debbie Downers!


Honey Jars & Cake Jars
A little bit of sweet lovin' right in a jar. I don't know why honey is so popular, but cake in a jar?! That is another story!! Yummy goodness ready to eat! Both make for really cute wedding favors, though.
Bottle Openers
There are so many options when it comes to customized bottle openers. You can get pineapple bottle openers, starfish bottle openers and even an anchor shaped bottle opener to enhance that oceanic, Summer, beach vibe!
Sunglasses
If you are having a wedding outside in the sun - maybe at the beach or in a garden - personalize some cool shades for all your guests to wear. But, please, rent a tent or something for the reception at least so your guests don't soak their clothes.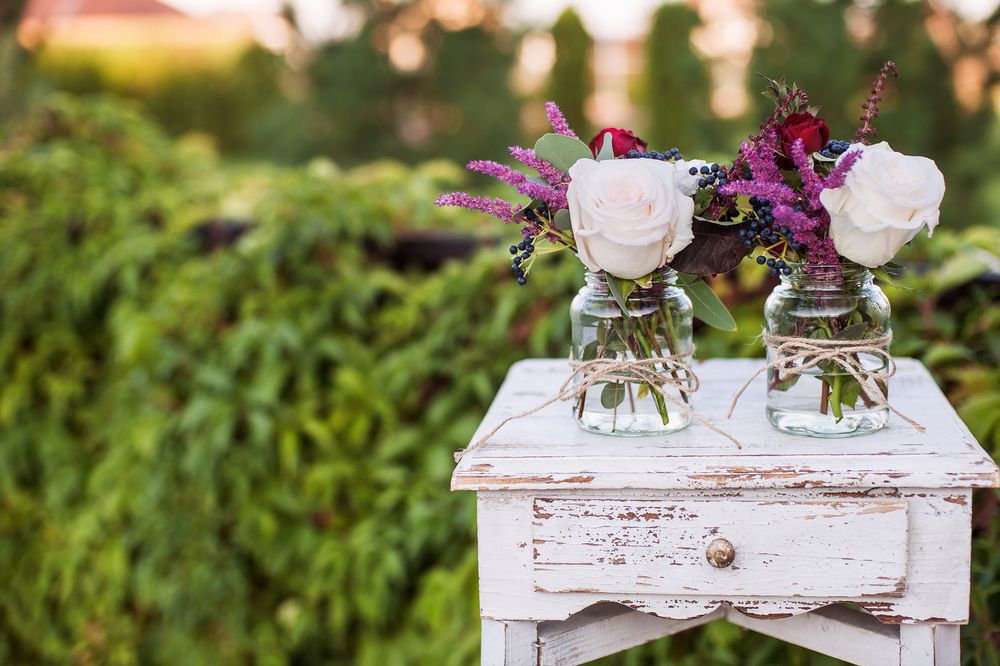 Glass Jars
Whether you fill them with potting soil and flower seeds or tea light candles, these would be really cute with some love quotes printed on them.
"Faith plants the seed, love makes it grow"..
Or
"Come on baby light my fire"

Too corny? Give me a break, I'm coming up with those on a limb.
Coasters
Personalized coasters can be very cool and definitely put to use at most homes. You can purchase glass, cork, or even plastic ones depending on whether you want to stay in theme with your wedding.

Shot Glasses
Because who doesn't like having their own shot glass? Customize them with your guests initials or last name so they feel special. Now you have your own party shot glass to carry in your purse!! - No?… Is that just me that does that?
Mini Sunscreen
Do your guests a solid and provide them with mini sunscreen bottles so that they don't burn to a crisp sitting outside during your ceremony or reception!
Mini Palm Plants
Mini plants are pretty popular and very cute. I mean come on, a petite little plant that fits in the palm of your hand!? Can't go wrong with that, everybody likes to bring a little extra life into their own home!

There you have it! Just a FEW ideas for some summer wedding favors…even though there has to be a billion more ideas circulating out there, we found these to be cute and perfectly proper for wedding!