The wedding stress has ended, and now it's time to celebrate your forever vows - it's time for the honeymoon! But with so many different options, choosing the perfect honeymoon spot can be difficult.
Today we're going to delve into the top 3 honeymoon destinations in the world - voted by people like you!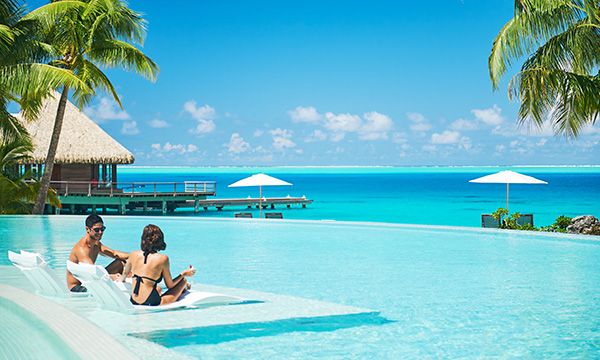 3) Bora Bora
With some of the most turquoise water you will ever see in your life, there are few places in the world that are more beautiful than Bora Bora. Given that it is one of the most beautiful islands in the world, you might think that it would be overcrowded, but in reality, quite the opposite is true. One of the best things about Bora Bora is that it is a place you can go to escape the crowds! Due to the location and cost of vacationing in Bora Bora (yes, unfortunately, it makes for an expensive honeymoon), it's never over-crowded. In return it is an unspoiled paradise where you and your honey can go to indulge in some pampering, romance, and alone time!
Where to stay
There are countless resort and hotel options in Bora Bora. With that being said, if you're going to take the time and spend the money to travel all the way there, you can't miss out on the opportunity to stay at an over-the-water bungalow. There are a few over the water bungalow options in Bora Bora, but our favorite is "Le Meridien". A luxury hotel surrounded by a private lagoon, Le Meridien is considered to be one of the most luxurious resorts on the planet and provides amazing views of Mount Otemanu.
What to do
Lazy on white sandy beaches? Yes please! Enjoy a day at the spa? That sounds romantic! Snorkel with fish? Sure why not? These are all amazing things that you can do in Bora Bora, but let's face it - you can do them plenty of other places in the world too. On your honeymoon, we say get adventurous and try something new! Get a Polynesian tattoo, swim with sharks, or pet sting rays like they are your very own dog!

2) Santorini, Greece
Bora Bora is an amazing beach destination for a honeymoon, but it's going to cost you a pretty penny to get there. If you're looking for a more budget friendly destination, Santorini Greece is a great option. Of course, if you were to ever look a pictures of Santorini, you might think we're lying. Famous for it's unbelievable sunsets, beautiful beaches, and unique architectural skylines, you would never know that Santorini was an affordable destination - unless you're reading this, and now you're one of the lucky ones who can take advantage!
Where to stay
When honeymooning in Santorini, our best advice would be to rent out an Air B&B and live like a local! But if that doesn't sound like something you want to do, then there are plenty of honeymooning resorts and villas to choose from too. Among our favorites are the Virginia Cave Villas (with cave-style rooms, sunset views, and your own personal balcony overlooking the waters below) and the Onar Villas (with volcano views and private pools).
What to do
Just explore! The best thing to do in Sanatori is to have no timetable - just wander the streets and see what you find! But if you have extra time, here are some other suggestions:
Get romantic at an open air cinema
Explore an ancient archaeological site (ruins from the city of Akrotiri)
Take a hand in hand hike from Fira to Oia for some of the most picturesque views in all of Santorini
Try something new together and get a fish pedicure
Grab a glass of wine and watch the sunset together
Explore Amoudi Bay
Swim at a red sand beach
Hike to the top of a volcano
Try a yellow donkey beer (drink beer first, ask questions later!)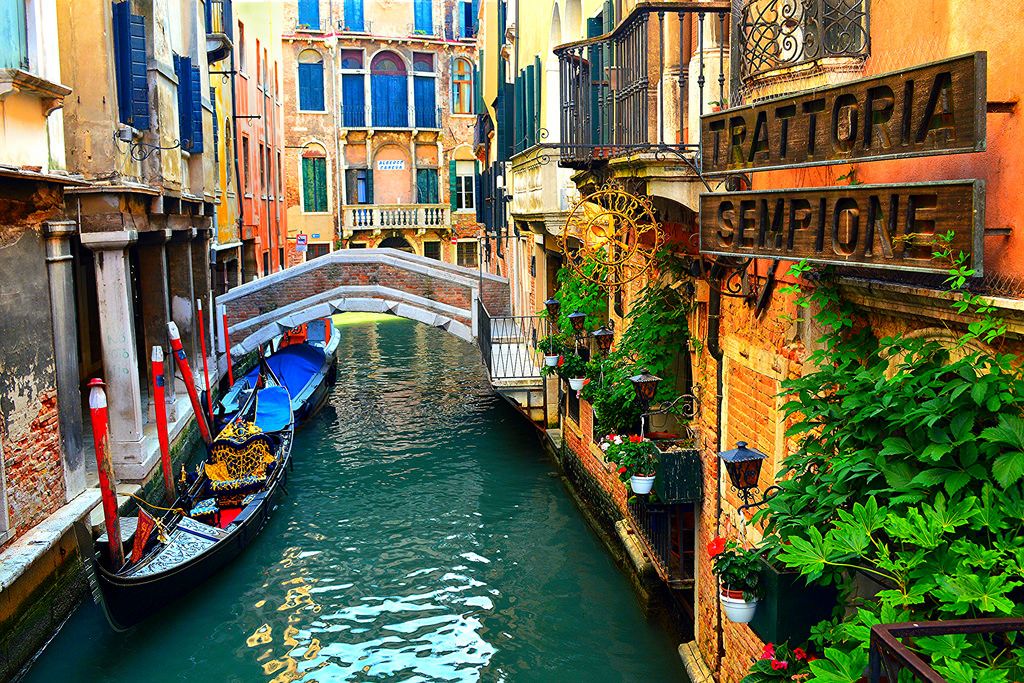 1) Venice, Italy
Of all the honeymoon destinations in the world, Venice, Italy is number one - and with good reasoning. Often referred to as the floating city, Venice is also known as the city of love and romance. The city of Venice is built across dozens of small islands and is linked by a series of canals and bridges - so it's probably no surprise that this is where Casanova himself set up home. But while none of us will ever be Casanova, it's not difficult to find romance in the most romantic city in the world!
Where to stay
When you want to take your romance back to your room, Gritti Palace is the place to stay. Located on the Grand Canal, the Gritti Palace offers over 82 elegant rooms, each offering their own traditional Venetian decor. The hotel is considered to be part of a "Luxurious Collection", and even offers a private yacht experience!
What to do
No trip to Venice would be complete without a traditional gondola ride down the canal! But while here, you might also want to check out some contemporary art, cruise down the Grand Canal, walk in the footsteps of James Bond, or try some authentic Italian Gelato!
These are just a few ideas to get your romantic juices flowing for your honeymoon! But remember, the important part is not where you are - it's who you're with!