OMG - The definition of hot! This couple, what's NOT to adore about them? Unless you're one of those people who believe a 20 year age gap is filthy - we'll entertain the controversy for the sake of how NORMAL the "Social ABNORMALITIES" have become today. If that 20 year age gap started at the age of like 16, yes, there's a problem - There's levels to this shi*.
Nevertheless, this couple is living proof of how opposites attract. From their age down to the backgrounds. But ultimately, who cares about any of that? They're grown, they're famous, they're age difference is not illegal, and they're freaking BEAUTIFUL - can you imagine their children!?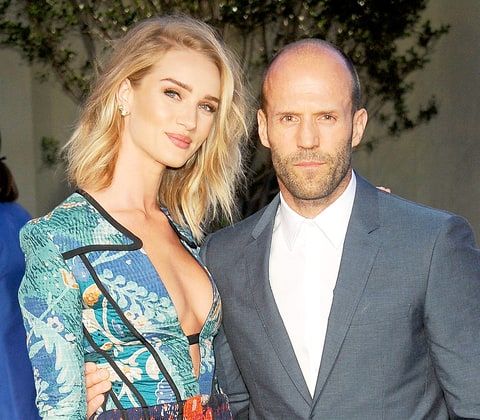 Credit: Gregg DeGuire/WireImage
Jason being of Derbyshire, London, and Rosie being of Devon, England, the two have grown up with fairly different upbringings. Jason would work in men's clubs performing with his family band on the drums, while also supporting his dad in persuading people to pay inflated costs for end-of-the-line goods, to pretty much make a living for the family. His upbringing was somewhat rough. He did however excel in school earning a spot at Great Yarmouth Grammar School.
Jason spent years struggling as a fitness model but found his big break when he explored being a stuntman in the acting world. Guy Ritchie recruited him to play the lead role in Lock, Stock and Two Smoking Barrels - a Gangster movie that blessed us with our first listen on Jason's badass, and sexy as hell, accent. Several action roles were soon to follow for him.
On the contrary..
Rosie was brought up in a society that inherited goods, rather than paid for them. She comes from a line of baronets connected to royalty. She grew up sheltered but by no means rolling in dough. She spent most of her time making memories with family on their farm in Tavistock, going skiing and riding horses.
Rosie attended Tavistock College, a local comprehensive, where she was teased about her two last names but overall fairly admired by her male classmates. Duh - what man wouldn't admire this babe? She was cat-walking at 17 years old, and signed on by Victoria Secret at 19. Getting into the entertainment industry was never hard for her.
The two's first public outing as a couple was at Coachella 2010 - man, where the hell was I? I would have melted had I seen them in public. Not sure whether I'd melt for Jason or for Rosie! Either way.
Their secret to a happy relationship?
Jason says: 'We get drunk and float around the swimming pool.'
Rosie says: 'We're best mates. He makes me laugh every day. I almost feel like I never had a proper boyfriend before.'
Ugh, where are all the Jason Statham's in the world? He can SNATCH me up and TRANSPORT me to his HOMEFRONT. I need a man who can TURN IT UP and keep me SAFE from the CHAOS and WAR of today. See what I did there?