Can celebrities "I do" it humbly? We've spotted a few Hollywood couples who chose a more down-to-earth celebration over a glamorous affair. Join us as we take you on a blast from the past adventure and work our way up to present day, with some of our favorite humble celebrity hitchings.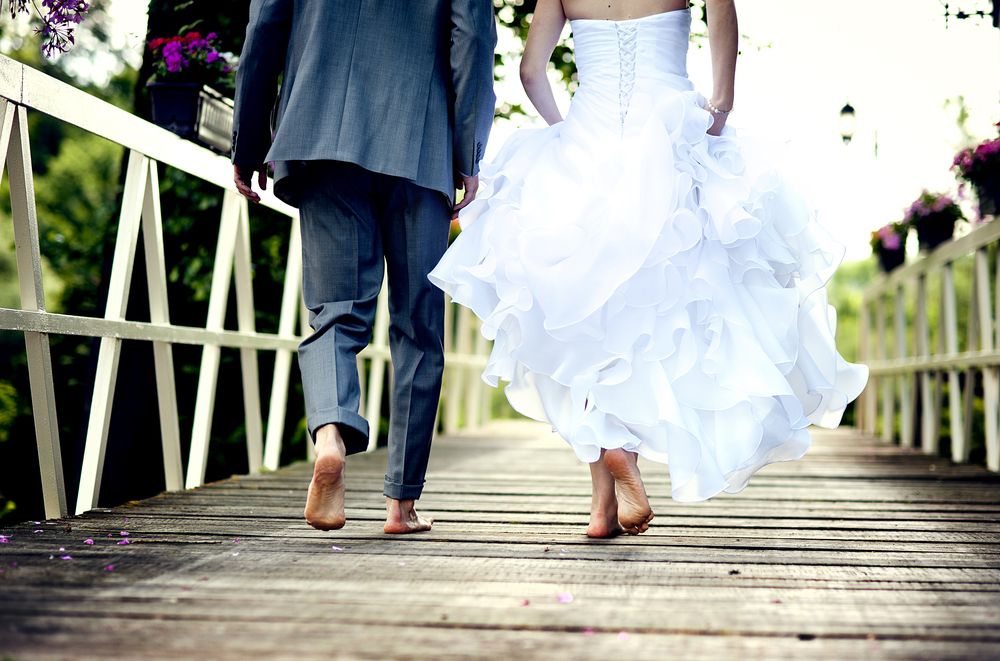 Michael J. Fox & Tracy Pollan (1988):
Can't get anymore simple than 70 guests at the West Mountain Inn in Arlington, VT. Fox and Pollan were wed on a hillside under a tent. Nothing extravagant, no 200 guests, and they honeymooned at Martha's Vineyard and in the Caribbean.
Jon Bon Jovi & Dorothea Hurley (1989):
These high school sweethearts were secretly hitched in Vegas. With their cab driver as their witness, the couple exchanged their vows in leather and jean right outside the Graceland Wedding Chapel. These outlaws of love decided to elope quick enough so that Bon Jovi could get back to his New Jersey tour #priorities.
Heather Locklear & Richie Sambora (1994):
Many people think that these too Episcopalians wed at the American Cathedral in Paris, France, which is true - however, they were legally married two days before their Paris wedding at Sambora's New Jersey home in a civil ceremony. They decided to hold a more lavish wedding, with their 25 closest guests, with a ceremony in Paris afterwards.
Faith Hill & Tim McGraw (1996):
It doesn't get much more simple than bare feet under an oak tree. Hill and McGraw kept their wedding a surprise and made their family and friends believe they were invited over for a benefit concert and softball game. Already three months pregnant, the couple broke the pregnancy news to their guests and proceeded by marrying under an oak tree, followed by a small reception at McGraw's aunt's home.
Brooke Shields & Chris Henchy (2001):
Dinner party at the Ritz Carlton in Marina Del Rey and a surprise wedding in Catalina? Shields and Henchy managed to get their family and friends on a boat to Catalina Island to witness them recite their wedding vows, exchange their rings, and partake in a small civil ceremony.
Ashton Kutcher & Demi Moore Wedding (2005):
With only 45 guests, Demi Moore and Ashton Kutcher performed their written promises to one another at 10:00pm inside their very own Beverly Hills home, under a chuppah. Kutcher wore a suit and fedora, and Demi wore a Lanvin gown off the rack. Elegantly decorated with orchids and votive candles, the Kabbalah wedding bid them farewell to Barcelona, Spain for their honeymoon /business trip. Moore had to shoot a sparkling wine commercial.
Sandra Bullock & Jesse James (2006):
Married at the Folded Hills Ranch in Solvang, CA. Jesse pulled up in a red truck, no fancy carriage or limousine. Sandra's sister made them a four tier carrot cake for their wedding cake. And my favorite part, their first stop after the wedding was to get french fries and ice cream from a McDonald's in Oxnard, CA. Their honeymoon? VEGAS!
Beyonce & Jay-Z (2008):
Believe it or not, this power couple had a fairly quant wedding. With just around 40 guests at Jay-Z's New York Penthouse apartment, they exchanged their vows. The wedding was an all white wedding, and guests were asked to wear white. The reception included food mostly cooked by Beyonce and her family to ensure privacy. They held the reception in the groom's living room, and the couple danced their first dance to none other than "Crazy in Love".
Megan Fox & Brian Austin Green (2010):
Just Megan, Brian, and his son Kassius; this couple was married near Kona, Hawaii at the Four Seasons Hualalai. Joined together by a local hawaiian priest, the couple continued their honeymoon on the island for an extra week.
Paul McCartney & Nancy Shevell Wedding (2011):
Married in a registrar's office at Old Marylebone Town Hall in London, Paul and Nancy exchanged their vows and rings in front of just 30 guests. They followed the ceremony with a reception at Paul's St. John's Wood home, where a vegan menu was served. He performed a ballad for his new wife, and later enjoyed the evening with two wedding cakes; one vegan and one traditional.
Angelina Jolie & Brad Pitt Wedding (2014):
Married at Chateau Miraval, their 1,200 acre estate in Correns, France, Brangelina were married in front of a simple 20 guests. Everything was pretty much ran by their kids; they walked Angie down the aisle, were the flower girls and ring bearers and they even made the wedding cake. They had a BBQ style picnic following the ceremony.
Safe to say not ALL celebrities are superficial and prone to the glitz and glamour. Some prefer and enjoy the simple life, just like we do.