Kakslauttanen Arctic resort, Lapland, Finland

First and foremost, WOW. This is a spectacular resort with plenty of lodging accommodations that can appeal to nearly anyone; whether you like the cold or not. Just 250 kilometres from the Arctic Circle, the water is so pure that you can drink straight from the surrounding streams. Wouldn't you like to spend your honeymoon in such a unique place?! It is certainly a once-in-a-lifetime experience.


ACCOMMODATIONS:
Glass Igloos:
The Glass Igloos accommodate 2-4 people with beds and toilets. If needed, they may also include a second bed. The 4-person Igloos have showers, the 2 person Igloos do not. During the season of the Northern lights, you don't want to miss the opportunity to have a full scope view of them right out of the ceiling of your Igloo.
Kelo-Glass Igloos:
Accommodating up to 6 people, this lodging offers both the warmth of a cozy log cabin and a glass igloo view from your bedroom. With a fireplace, private sauna and kitchenette this is the perfect hideaway for a romantic getaway.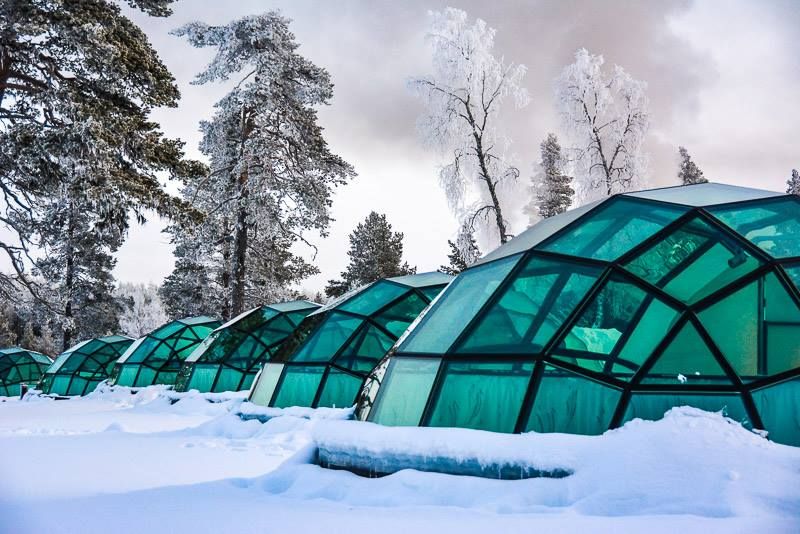 Kakslauttanen Facebook

Log Chalets:
Sleeping up to 10 people, are Kelo Pine built log cabins offer fireplaces and saunas.
Snow Igloos:
If you REALLY want the "sleep in the snow" experience, here you can stay in a -5 degree centigrade but still enjoy a comfortable night with the down sleeping bags that the resort provides you.
Queen Suites:
Now THIS is what I AM talking about! A huge bathroom with both a bathtub AND a sauna; and a terrace with an outdoor jacuzzi? This overall is just a classy suite that is made for a Queen.
Wedding Chamber:

It's like being a Hobbit, lodging in earth's love nest concealed by a turf roof, except you have a great sauna and a bathtub!
Traditional House:
It's like living in a comfortable cabin in the forest, with a fireplace, kitchen area, rocking chair and sauna. Perfect for a romantic getaway for the two of you.
Gold Digger's Chalets:

With their own sauna, staying by the banks of the golden river has never been more pleasurable. This accommodation also offers a kick sled in the front yard for you to get around the site.