I just want to look back at one of the tackiest wrestlings, I mean weddings, in "celebrity" history. Just when you thought Hulk Hogan of VH1's Hogan Knows Best actually did know best, little toe-head Brooke got engaged to wrestler Bully Ray - despite her father's negative feelings towards him. I wonder if Bully "bullied" her into it - Ha! I crack myself up.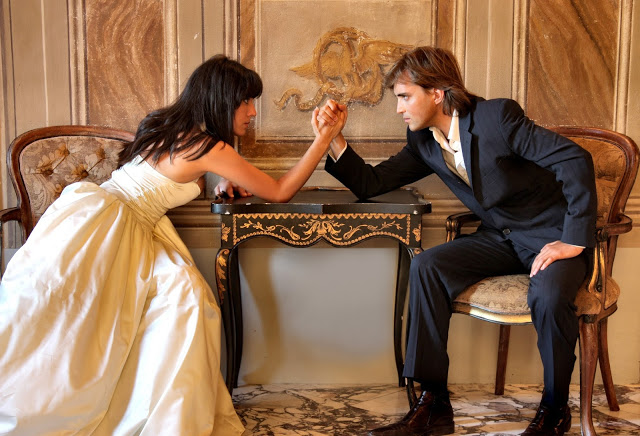 Anyway, how did this dynamic-duo come to be? Well, Bully decided to put a ring on it in the ring, and you'll never guess where they held the oh-so-unstaged ceremony - you got it, in the ring. I didn't think Brooke could out-tacky her Ed Hardy rhinestone'd closet that seemed to be stuck in the year 2000- but alas, she did.

Not only did her bridesmaids look like they were attending a high school prom that 2007 threw up all over, but their wedding was being announced like a friggin' wrestling match! Come on now - we GET IT - you wrestle! Aside from her orange spray-tanned skin and overly bleached-blonde hair that looked as it was clipped back as she was running to the aisle, it seemed as though Brooke had her makeup done by a 5th grader- glitter galore.

It doesn't stop there. After the painfully scripted vows were exchanged, their "I Do's" were then interrupted by one of Bully's best men, who proceeded to strip down to his patches - resulting in an invasion and attack of the Aces & Eights Nomads. Everyone ended up on the floor; Brooke's groom got knocked the f*ck out, and her daddy Mr. Hulk Hogan was laid out on the mat. It was definitely the most entertaining episode of their failed reality show to date.

So much for "Hogan Knows Best." The real curiosity this wedding made me wonder was whether or not the people in the audience paid the price of a wrestling ticket to witness these nuptials? Like, did they find their wedding invites on Ticketmaster or Stubhub? The world (you and I) might never know.